Good Sam Gives Westwind RV & Golf Resort 10-10*-10 Rating!
Good Sam gives Westwind RV & Golf Resort a 10-10*-10 on its rating scale, the highest available!
When you stay at a Good Sam rated RV Park or Campground, you can expect that it will be clean, safe and comfortable, meeting the quality standards that Good Sam members expect. Good Sam RV Parks are inspected and rated annually according to our exclusive Triple Rating System.
Woodall's Gives Westwind RV & Golf Resort 5/5 Rating!
Woodall's gives Westwind RV & Golf Resort a solid five out of five on its rating scale–the highest available.
Woodall's assigns two ratings to each privately owned campground/RV park. One rating is assigned to the facilities at the park (sites, roads, service buildings, restrooms, hookups, etc.). A separate recreation rating is also assigned. Both facilities and recreation ratings range from 1 to 5. (This is Woodall's copyrighted rating symbol.) Keep in mind the final ratings are a composite of several different areas of interest.
What do the Woodall Ratings indicate?
Ratings depend on the quality and quantity of our criteria elements. The more 's a park has generally reflects the presence of more development at the park, and usually more facilities. HOWEVER, THE MAINTENANCE OF THE CAMPGROUND WEIGHS HEAVILY IN ALL RATINGS ASSIGNMENTS. Cleanliness is a major factor in determining if you and your family will have an enjoyable vacation. The maintenance level at a park must meet or exceed the recommended ratings or the rating cannot be assigned at that level. See Woodall's Rating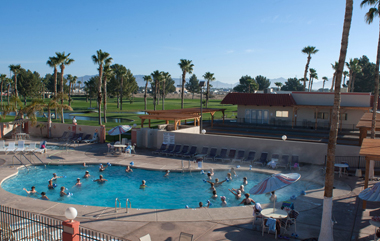 Yuma is a golfer's paradise. And for RVers that love their golf, Westwind RV & Golf Resort is a favorite winter destination. Westwind's 9-hole golf course is the crown jewel of the resort, with it's beautiful lakes, mountain views, and well-maintained greens and fairways. And it's just a few steps away from any of the 1,075 RV sites within the resort.
The par-3 course is challenging and enjoyable for any level player. And while most golfers choose to walk the course to enjoy the scenery, pull carts and electric golf carts are available. A putting green and pro shop are also available.
But Westwind is more than just a golf destination; it's a full service self-contained adult resort with restaurant, lounge, fitness room, pool – and over 100 planned activities each day. Guests have available a wide assortment of classes, including yoga, exercise and painting. Or, there's the traditional shuffleboard, bocce ball, and pickleball courts.
Onsite entertainment includes a nightly happy hour with karaoke and a Friday night dance party with live music. And for the 2013-2014 season, Westwind will host several headline acts, including Ricky Nelson, Lucie Arnaz, Jukebox Junction and more.
While Westwind opened in 1985, there's nothing dated about this beautiful resort. It seems to just get better with age. So it's no wonder that so many of Westwind's residents return year after year. Even so, the resort can accommodate nightly, weekly, monthly or annual guests, and guests booking a 3-month stay get the fourth month free.
Westwind is conveniently located just off of I-8, close to local shopping restaurants and entertainment. A shuttle is available from the resort to several local hot spots, including casinos.
Whether you're looking for challenging golf, reuniting with friends, or just relaxing by the pool with at good book, Westwind RV & Golf Resort has something for everyone.