New This Season at Westwind RV & Golf Resort
The 2015-2016 season is almost here, and this will be the best season ever at Westwind RV & Golf Resort.  We can't wait for you to see all that's new!
Dear Snowbirds,
Remember that song about the "lazy, hazy crazy days of summer"?  Well, not here at Westwind!  It's been excessively hot, but that hasn't slowed down our staff and crews from making our resort shine with updates and improvements.  Here are just a few:
Newly paved roads and parking.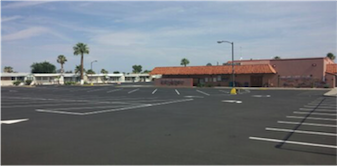 All roads and parking areas have been professionally resurfaced and are simply beautiful.  This was a huge task, but was well worth the effort, and we're delighted that the job is completed in plenty of time for your arrival.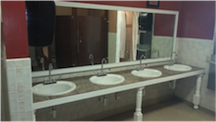 Men's Restroom Remodeled, New Tee Markers
One of the challenges of maintaining a 5 Star Resort is keeping every detail current and up to date. But just check out the "facelift" to the men's restroom! Pretty nice, huh?  And Kevin did a great job giving the tee markers a fresh new look that complements the other exciting improvements you'll find to our already great golf course!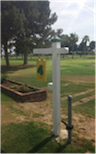 Opening Halloween Costume Dance – October 31!
Upper Room BandWhat better way to officially kick off the season than with a 'welcome back' dance, and this year's will be a doozy! It falls on Halloween, so choose a costume and come prepared for a good time.  Upper Room, the band that entertained us at our Mardi Gras dance last year, will play for us again, so it is sure to be an epoch event.
All your old favorites will be back!
Everything that you've come to know and love about Westwind RV & Golf resort will still be here when you arrive – Taco Tuesday's, Karaoke with Shirley every Wednesday and Barry Pippen on Thursdays at Cheers Lounge; Pool-Side Barbecue with live entertainment every Saturday; Friday night dances with some of the best bands in the region; great golf, activities and classes; and of course the spectacular shows in the Crystal Ballroom.
And perhaps best of all, all your friends will be back to make this season the most memorable yet at Westwind.
Have you made your reservations yet?  If not, don't delay!  And why not invite some new friends to come with you this year?  There's plenty of room for them too, and the more, the merrier!
We can't wait for you to see all that's new at Westwind RV & Golf Resort, and are eager to welcome you back soon!
Sylvia & Jim Bergren, Managers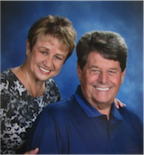 Westwind RV & Golf Resort
Book Online
Check out what's new on our Facebook page!
Email us directly at resort@westwindenterprises.com